The first Aspen Ruggerfest was the brainchild Eastern Rockies Ruby Football President Union President Terry Fleener and a local Aspen ski-instructor Steve Sherlock. They both figured that there was no better place to hold a tournament than in Aspen where its diverse community would more than appreciate such an event.
At the time Wagner Park was an unkempt field where beer cans, used fast-food boxes and other forms of organic and inorganic detritus populated the grounds. Sherlock promised city council to clean up the field in return for a permit to hold the 'rugby festival'.
Request granted, Sherlock set out not only to clean up the field but to erect makeshift rugby posts at either end. Then he set out to recruit a team from the motley crew of athletes that frequented the town's various watering holes on any given night.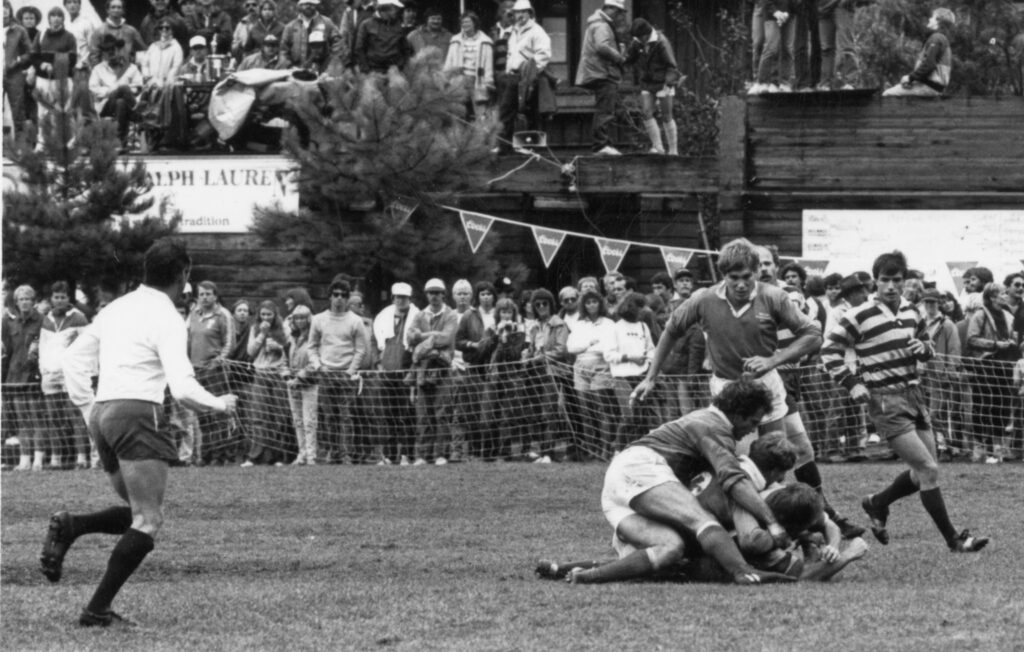 It wasn't very difficult to get teams to travel to Aspen for the first Ruggerfest and Sherlock's band of rag-tags did well for a bunch of hooligans most of whose first experience of rugby was when the whistle blew to start their game.
Who wouldn't want to come to Aspen in autumn to play in a rugby tournament with clean fresh mountain air on a full sized well-manicured pitch in the center of town surrounded by beautiful mountains, beautiful women, lots of accommodations and plenty of pubs with grub?
Fifteen teams attended the first Annual Aspen Ruggerfest held on Columbus Day Weekend. A combination of college and men's teams from Salt Lake City, Kansas City, Colorado Springs, Boulder and Denver came to Aspen to compete on Wagner Park by day and party by night.
The town went off and the tradition of Aspen Ruggerfest on Wagner Park was grounded. It would be three years before Aspen won its first Ruggerfest. By that time the temporary posts were replaced by large Spruce polls cut down on Highlands Mountain and dragged into town by horses over rickety roads on which most of the bark was peeled-off.
For over four decades the tournament has been played come rain or shine or (on occasion) snow! The dates for the 'rugby festival' moved up to the third weekend of September mostly to eliminate the potential for snow.
And how the tradition has lived on. The tournament is now held over four days- Thursday thru Sunday and hosts between 30-40 teams. Thursday over 45s and 50s brackets compete. On Friday the Masters play. The Men's Open and Women's divisions play on Saturday. On Sunday along with all the finals is a Juniors' 10s competition. And at various times TBD over the weekend Youth rugby is exhibited.
Many teams from outside the US have come to experience the magic of playing in this ski town: Garryowen ( Ire) Eastern Suburbs, Manley( Aus), Rumney, Cardiff H.S. Old Boys (Wales) Edmonton Selects (Ca), London Welsh, The Richmond Heavies (England), Stewarts Melville,The Olde Watsonians (Scotland), Valence Sportive (Fr) to name a few.
2022
2021
2019
2018
2017
2016
2015
2014
2013
2012
2011
2010
2009
2008
2007
2006
2005
2004
Gentlemen of Aspen
Gentlemen of Aspen
Dark N' Stormy Misfits
Gentlemen of Aspen
Dark N' Stormy Misfits
Dark N' Stormy Misfits
Gentlemen of Aspen
Glendale Raptors
Denver Barbarians
Denver Barbarians
Denver Barbarians
Pro Leisure Tour All Stars
Gentlemen of Aspen
Gentlemen of Aspen
Gentlemen of Aspen
Gentlemen of Aspen
Denver Barbarians
Gentlemen of Aspen
2003
2002
2001
2000
1999
1998
1997
1996
1995
1994
1993
1992
1991
1990
1989
1988
1987
1986
Denver Barbarians
Gentlemen of Aspen
Gentlemen of Aspen
Gentlemen of Aspen
Gentlemen of Aspen
Gentlemen of Aspen
Gentlemen of Aspen
Gentlemen of Aspen
O.M.B.A.C.
Gentlemen of Aspen
Life Chiropractic RFC
Gentlemen of Aspen
Denver Barbarians
Gentlemen of Aspen
Gentlemen of Aspen
Sacramento RFC
Gentlemen of Aspen
Denver Barbarians
1985
1984
1983
1982
1981
1980
1979
1978
1977
1976
1975
1974
1973
1972
1971
1970

1969
1968


Gentlemen of Aspen
Denver Barbarians
Denver Barbarians
Old Blues, Berkeley
B.A.T.S.
Old Blues, Berkeley
Occidental O.B.
Minneapolis RFC
B.A.T.S.
B.A.T.S.
Pumpkins RFC
B.A.T.S.
B.A.T.S.
Air Force Academy RFC
Gentlemen of Aspen
Denver Highlanders Tie – Denver Barbarians
San Francisco RFC
Kansas City Blues RF