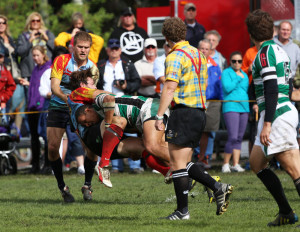 Aspen Ruggerfest is on every ref's bucket list according to Marc Nelson vice- chairman of the Rocky Mountain Rugby Referee Society (RMRRS).
The tournament falls under its jurisdiction, but he says that every year other referees societies send requests to send referees to participate in the event. Referees come over from as far as the UK to participate and to experience the tournament- often paying their way to show up. These UK referees scallywag their way into the tournament, meaning they pay their way.
This year ten referees, twelve assistant referees, five referees coaches and one USA referee performance reviewer will be coming to Aspen. Of this horde two referees will be from the USA National Panel Referees, two will be traveling from Southwest England and one referee will be coming down from British Columbia, Canada (Eh!)
Always on the sidelines will be the referee coaches and USA performance reviewer. When referees are not calling games they will be running touch and helping the referee on the field.
Marc, a Western Zone Referee manager, along with Mike Cobb, the Eastern Zone Referee manager represent the USA Rugby High Performance Referee Development Team. Their task throughout the weekend will be to evaluate referee talent to determine who they can fast-track into becoming high performance refs.
During the competition on Thursday and Friday most of the referees will be from the local RMRRS, which itself has two national level referees. On Saturday for the Open Division and on Sunday for the finals mostly the national caliber and international referees will call the games.