June 25, 2015
The fences around Wagner Park, home to the Gentlemen of Aspen since 1967 were dropped on May 21 after guarding the field for nine months and preventing Aspen Ruggerfest from using last year.
The city closed Wagner on August of 2014 to do extensive upgrades. Aspen Parks Department ripped up the turf and installed a state of the art drainage system under the pitch before laying down new sod before winter to let the roots take.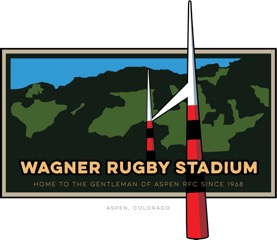 As a result the 47th Aspen Ruggerfest will always have a big " * " next to it as the only time since in its history that no games were played on Wagner Park.   Last year it was confined to the Rio Grande field which itself was in the process of a renovation. Though the pitch was ready for play, the surrounding area was still under construction making the whole experience felt squeezed; games were shorter, the sequencing of games was rushed and space for the fans was limited.
"Having Wagner Park back means a lot," said one rucker. "Last year the whole experience felt like we were playing in an Animal Cracker box."
This spring the redesign of Wagner Park's infrastructure got a serious test when record May rains flooded the pitch after it had just absorbed the snow melt. And then in mid June it absorbed all the alcohol run-off from the thousands who attended the food and wine festival.
"That is one tough field!" said another rucker. " It will easily handle Ruggerfest no problem. No matter what Mother Nature conjures up or what type of beer it soaks up, the pitch will provide excellent footing."
The new turf will see its first rugby action in a year when the Blue Goose RFC from Breckenridge come into town this weekend, and following week the Denver Barbarians come to play the traditional Fourth of July match.